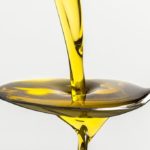 Print Recipe
Cannaoil
Ingredients
1

cup

decarboxylated cannabis

(about 7g or 1/4 oz of dried flower)

1

cup

oil

(e.g. olive, canola, coconut or MCT)

1

tbsp

sunflower lecithin

(optional to add potency or just 1 teaspoon)

2

mason jars

(each 4 ounces or 1 single large jar)

Unbleached cheesecloth

Strainer or large funnel

Double-boiler, slow cooker or saucepan

Boiling water

(enough to cover the Mason jars in the slow cooker)
Instructions
If using a saucepan:
Combine the oil and lecithin and heat them in a medium saucepan over medium-low heat. Add the decarboxylated weed, stir using a wooden spoon, and cook, taking care not to boil or let the temperature go over 200°F|93°C, for about 45 minutes.

Remove from heat and let sit, undisturbed, for 10 minutes.
If using a slow cooker:
Combine oil and cannabis in a slow cooker, and heat the two together on low or warm for 4-6 hours, stirring occasionally without boiling. A small amount of water can be added to the mixture to help avoid burning.
Strain and Store:
Strain using a fine mesh-sieve, a strainer or a large funnel with four layers of cheesecloth and place over a large glass measuring cup or bowl. Slowly pour the cooled liquid through the cheesecloth. Do not squeeze the cheesecloth; this will simply add more chlorophyll to your oil. Your strained oil will be slightly green.

The cannaoil will keep, covered and refrigerated or in a dark place, for up to 8 weeks.
Notes
To avoid odor, place the ingredients inside a container with lid inside a crockpot. Be sure to shake and release out air of the container once in a while.
You can make smaller or larger batches of cannabis coconut oil using a 1:1 ratio, making sure to use enough coconut oil to cover your decarboxylated cannabis completely.
If your oil ever begins to boil or smoke, remove from heat immediately and let it cool a bit before beginning the process again with your crockpot on the lowest setting. It'll probably still "work" but you're burning off some of the incredible compounds that evaporate at higher temperatures.
If you don't have a crockpot, you can make the oil in a pot on the stove or a makeshift double boiler. Just follow the same instructions and make sure that your heat source is on super low and never starts to smoke.
Do not squeeze the cheesecloth; this will simply add more chlorophyll to your oil. All remaining plant material can be discarded or used in other dishes.
Whatever method used, temperature of the oil should not exceed 245°F.
To avoid smell use one of our products Magic Butter Machine